Catherine André, A label at the Soulages museum - Watch full screen video with english subtitles
Catherine André, internationally renowned designer of the eponymous brand, whom studio is located in Millau, was strongly inspired by the museum and its architecture. A collaboration was born between the designer and the museum: Catherine André imagined and made a specific and unique uniform for the reception staff. She gave her contribution by creating 44 jackets for the 22 front desk employees.
The choice of style focused on a strict suit jacket, almost unisex (more fitted for women). It is cut in a soft but compact knit, two-toned and double sided: one blue side in dry viscose, the other in black cotton. This knitting technique gives a black and blue shimmering effect.

"Like every item of my collections, details are essential: hence these rusted zamak buttons and rust-coloured jacquard trimmings on handcuffs and jacket bottom, to make this jacket fit the intense and metallic atmosphere of the museum".

This jacket has been designed to be easy to wear and wash.
It is not ostentatious, it is not a fashion item, it has been designed to dress, to identify and to inspire respect.
It has to be easy to put on and to wear just like knitwear.
Knitted and manufactured in France in Puy-en-Velay, every item has a limited serial number.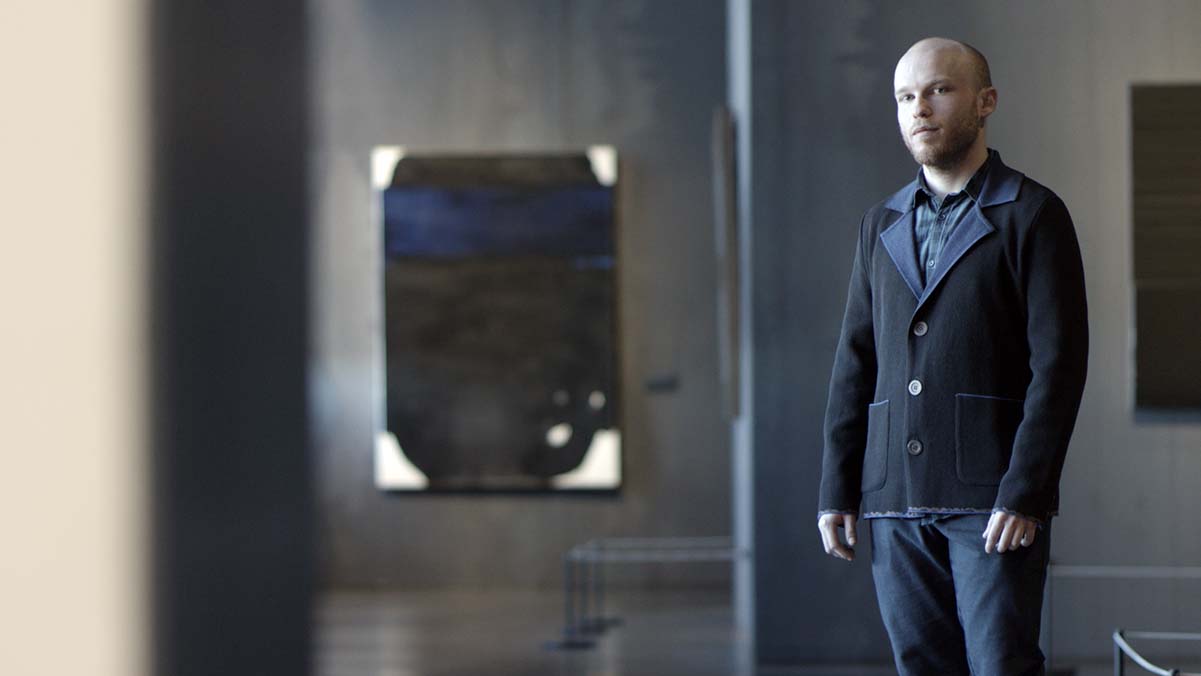 With Soulages Museum, the city of Rodez has a place dedicated to art and culture, the first of its kind. The opening of the museum in May 2014 enabled the area to take on a new dimension.
It welcomed more than 500 000 visitors in less than three years. A success which ranked him on top of provincial museums and which undoubtedly makes him the greatest museum of Occitanie region.
Soulages Museum is now established in the city. The inhabitants but also the tourist industry, and especially business people, are convinced that the major asset of the museum will empower the territory and improve the region's attractiveness.
Today, Soulages Museum welcomes daily a significant number of all kind of visitors from all over the world. A quick recognition of the staff by the visitors is essential to further improve the museum's reception quality.