Living in remote lands

I recently watched again the movie The Piano by Jane Campion inspired by Jane Mander's novel, The story of a New Zealand river. Ada, in the movie, is a young dumb widow who was sent with her daughter from Scotland to New Zealand by her father to marry an unknown man.

A portrait like so many other ones, among these European women who went to the far end of the world, often forced to follow their husband but sometimes also urged by the feeling of adventure.

They managed to adapt to extreme climates, often hiding their femininity like Jeanne Barret did in the 18th century. She was the first French women to sail around the world, dressed like a valet to assist the botanist Philibert Commerson during Bougainville's expedition.

Suspected of being a female she was finally unmasked by Maohis when landing on Tahiti.

Mood board inspired by Jane Campion and Marguerite Duras



Mood board with Vita Mir, our model for SS2020 collection


These female figures spurred my imagination and initiated the mood board of SS 2020 collection.

I pin scraps of images and pictures inspired by Jane Campion's movie on my mood board. Then comes Marguerite Duras, with her novel Un barrage contre le pacifique (The Angry Age), picturing a young woman in Saigon at the time of French Indochina. Then the illustrations of amphibians and reptiles by the British anthropologist, Edith Durham. In the course of my search, I add some graphic vocabulary, silhouettes and stories to enrich this creative process. After a few weeks of work, the strong and mix look of Vita Mir stands out as our future model for SS2020 look book.




Patterns and outfits on the mood board




Block print and post stamp examples
An oriental legacy


Original Madras redrawn with a brush for Java and Kontiki designs

The "Indochina of Marguerite Duras" naturally leads me to the East Indies and the cities of Rajasthan which has been long known for its shimmering fabrics, printed on cotton canvas, using block print technique.

This traditional technique uses wooden blocks on which are engraved each pattern. Once soaked with color, the block is applied by hand on raw white or dyed fabric.


19th century Madras dress


Knit version of Java print on Kontiki dress (photography by Richard Haughton)


Indienne prints

These painted textiles first appealed to the Portuguese, who brought them back to Europe by the end of the 16th century. They were at once successful and a few years later, the French East India Company imported amounts of brightly coloured fabrics printed with Paisley and tartan motifs.
Because of their success, the import of these printed fabrics was banned in France at the end of 17th century by Colbert in order to protect local manufactures. Copied by many factories from Marseille to Alsace and Switzerland to England, the fabrics then spread in Europe under the names of Indiennes, Perse, Damask, Madras… in memory of their origins. In the South of France, these copies gave birth to Provençal fabrics.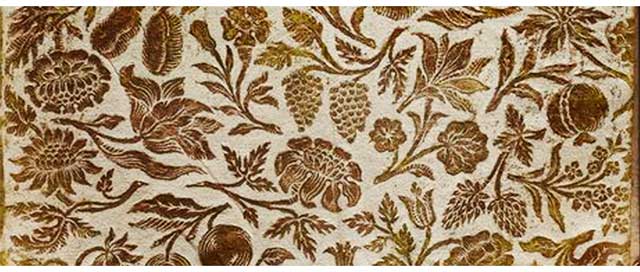 Old Damask fabric with shiny and matt floral pattern on satin weave

Ada, iconic group of SS2020 collection, is a knit version of a Damask pattern, made in an irregular linen yarn giving a kind of worn-out effect to the jacquard.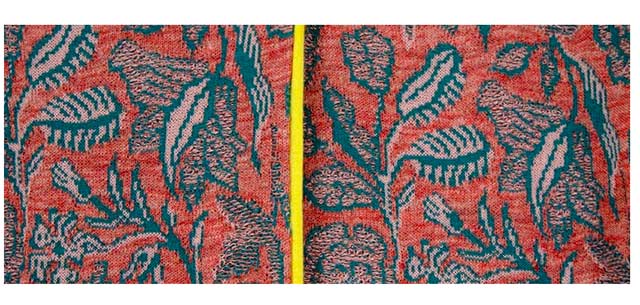 Ada pattern
Embroidered samplers

During my research, I also found some samplers, these embroidered exercises currently practiced by young girls until early 20th century.

As a learning process of cross stitch to embroider alphabet, decorative friezes and patterns, the samplers followed their owner as a long-life template for needlework.




Indian alphabet sampler




Sampler with geometric devices and tree of life

Under the influence of painted fabrics imported from India, flowers, animals and landscapes were added to the 18th century traditional samplers. In the 19th century, the samplers were revolutionized by the printing of templates with grids. And there comes the golden age for cross-stitch. George Sand herself was practicing it… "sometimes to the fever".





Carlotta design (photography by Richard Haughton)

Carlotta Jacquard is illustrating the richness of 19th century embroidered samplers by using different stitching techniques.

Embroidery works and their jumbled patterns thrown on samplers, mixed with scientific illustrations of Edith Durham inspired me for Redwork group. As a tribute to this talented and versatile woman, I designed an inventory of decorative and multicoloured species, characters and friezes to be printed on a crispy and dry cotton poplin.



Sampler embroidered with carmine thread, a dye coming from a cochineal from Peru which became popular in the 17th century


Redwork design, tribute to Edith Durham (photography by Richard Haughton)

Australian stamp


Illustration by Edith Durham in Encyclopedia of Life images- Amphibians and reptiles


Canopée design


Inspired by the richness of all these embroidery techniques, I also added Canopée and Tuktuk designs. The first one is using Cornely embroidery, a hand-guided mechanical technique working all kinds of yarns and ribbons and offering endless possibilities of effects.

As for Tuktuk design, its pattern takes up this traditional Thaï means of transport, made in white embroidery. This technique, much appreciated and introduced in France by Cardinal de Richelieu, adorns the caraco, t-shirt and skirt of this group developed at Balilab in Bali.


Embroidery test for Tuktuk design



Fresh and new in SS2020 collection

This collection is exploring and using a new palette of soft and pastel colours which has never been used before. Silhouettes are fluid, with short and wide tops worn with large pants or long pencil skirts.



Mahjong detail


The jacquard pattern of Mahjong is knitted on a base of thin striped jersey to evoke the texture of Damask fabrics.


Kimono design


Echo dress
(photographies by Richard Haughton)

This year, Kimono is the reversible design of the collection with its Japanese motifs, a jacquard composed of fans and polka dots on one side and a kinetic pattern on the other side. This double-sided knitting technique has become a permanent feature of the brand.

Echo jacquard is inspired by the effects of Ikat weaving from Indonesia and Kasuri from Japan.



Book binding papers


The book binding papers printed in the 17th century, were used by bookbinders but also to cover the interiors of furniture or the walls. For me, these decorative papers are an inexhaustible source of geometric patterns and rythms. Away design is combining these graphics with Kimono and Abanico patterns.