Incidentally…

Spring-Summer 2021 Collection


When the process of the collection started at the dawn of 2020, I was still travelling in Japan and went back just a few days before lockdown.
This time, I was ahead on my schedule: the color palette was already settled and yarns and fabrics, launched. What a lucky and helpful coincidence!! As this first lockdown was slowing down or even stopping the trading with our manufacturers and the studio was like in brackets. Delphine and I were the only ones to be there. Gabrielle, our graphic designer, was working with us from home. Our pattern maker and dress maker were under lockdown at home.


Mood board - SS21 color palette



Mood board - A bigger splash, David Hockney


Less is more

This new situation putting a brake upon our life, made us organize ourselves drastically: keep the timing of our usual schedule in spite of successive cancellations of the shows, take time to think and get to the point, figure out the script and style of the new collection and focus on our brand DNA even more.





Inside the studio, there was a strong atmosphere of work, harmony and peace fullness… against all odds. There were less interferences from outside, less requests and lapses in concentration... then, arose the idea of going through all our collections from the very beginning. That's how the "all summer collection" was born: a shorter collection with 30% styles less, a much more asserted color palette and iconic items being reissued.

Opposite: Anna, standing by the swimming pool, is wearing Sunrise Top


David Hockney. Portrait of the artist by Jean Léger, Paris 1972

A Bigger Splash

Water, the sea and Adriatic coast are the first inspiring images. I had just watched again the movie A Bigger Splash by Luca Guadagnino with Tilda Swinton wearing her designer outfits with such a unique elegance. So, Luca Guadagnino's movie and David Hockney's painting were getting close to each other!

While following the famous British artist, I started collecting the light blue rectangles of Californian swimming pools, the swinging reflections of water distorting the tiling pattern but also the artist's colorful and funky looks when he is wearing his checked suits and landscape hand knit jumpers.

Lemon yellow and the whole family of blues (Prussian, Ceruleum, Indigo…) are the stars of the color palette.




A Bigger Splash, David Hockney 1967


Nichols Canyon Road, David Hockney 1980

A Short Story of Sunrise

My everyday life is always interacting with creative work. From the road I take every day to go to my studio in Millau, I can see a country lane winding among the cherry groves, which reminds me of the painting Nichols Canyon Road, delightfully naïve and colorful.

The multicolored intarsia landscape of Sunrise design was born from the junction between this image David Hockney's figurative jumper.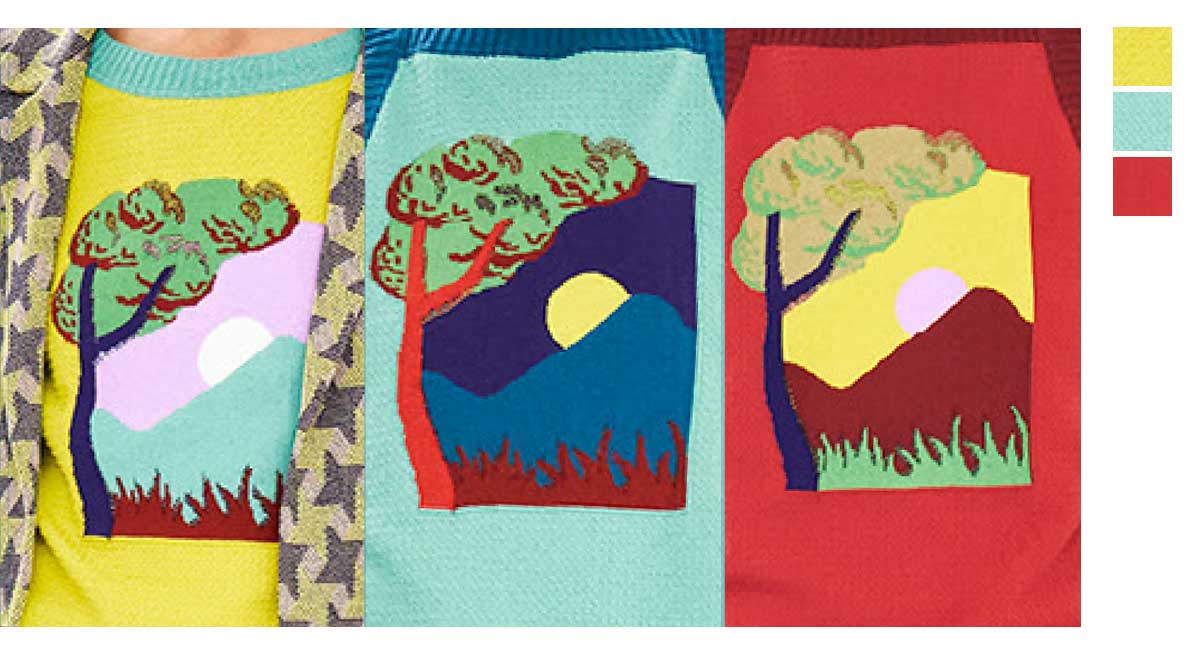 Sunrise: landscape knitted in lemon yellow, aqua green and red

As free as a bird
This is the time for rest and innocence. This is the season of escape and family meetings with big tables settled in the garden, of bursts of laughter and water games. This is the time of miraculous fishing parties till dawn. Our clothes are made of light, wind and little nothings. We put on a loose shirt or a light dress.
Magic open coat is lifted by the offshore wind and shows the transparency of its two tone herringbone stitches.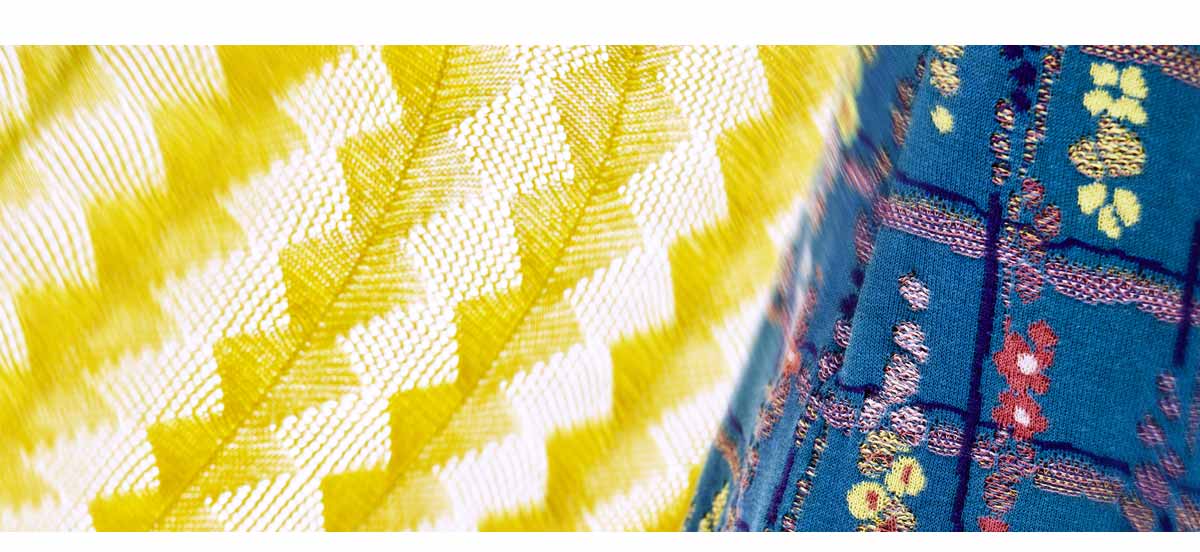 Magic design in yellow color and Sospir design in blue (photography by Richard Haughton)

During summer 1950, as Jean Cocteau was passing through Côte d'Azur and decorated his friends' villa Santo Sospir with many frescoes and sketches. He started drawing a big Apollo's head above the fire place and slowly and slowly, his work spread through all the rooms and turned this holiday house into an artwork.

This is where my imagination settled, under a pergola flowered with wisteria. Its bunches of flowers laid on jacquard pattern and digital print for Sospir and Pergola designs.

Printed Pergola red stole in cotton and silk (photography by Richard Haughton)
A Collection of sparkles and splinters

In this 2021 Spring-Summer collection, we can see the motifs interplaying with back and front. Reversible and double knitted Spring jacquard pattern is showing a two tone jumble of wild flowers in Raoul Dufy style and on the back a tartan motif.




Spring jacquard worn with Pool pants (photography by Richard Haughton)





Wild flowers print for Positano et Patio designs





Yellow Pool suit (photography by Richard Haughton)


LThe graphic vocabulary of D. Hockney's swimming pools inspired the rippling grid pattern of Pool suit as well as the swinging water sparkles on Splash, Dance and Lucinda.


Lucinda deserves a short aside. In Frank Perry's movie The Swimmer inspired by D.Hockney's swimming pools, the hero is doing an initiatory trip on a river and calling it Lucinda. In the collection, this design is knitted in jacquard voile, flowing like a stream, for loose and wavy outfits.





Make up adjustment by Lisa Brusque




Playtime lop, Lucinda skirt, Laps scarf
(Photography by Richard Haughton)

Graphic vocabulary

Small decorative and easy to wear motifs always have a select space inside every collection, such as Playtime, unavoidable hounds tooth check in its jacquard or voile version.

Sedona is vibrating with a multitude of knitted stitches and braids displayed in different ways on each style.


Piazza is an optical and iridescent small sized version of Splash diamond motifs.

Hacienda is adding a super light jacquard of polka dots (skirt and pants) and vegetal volutes (tops and dress) to the group.





Top Sunrise, cardigan Sedona, short Playtime (Photography by Richard Haughton)




Piazza top, Hacienda pants, Miluni scarf
(Photography by Richard Haughton)

Stripes, for sure!

Aria is a knitted pattern with discontinuous and embossed stripes.






Aria pattern (Photography by Richard Haughton)




Photo shoot in Pergola red shirt





Photo shoot in Sedona red top and Hacienda red pants





Photo shoot in Playtime dress





Anna wearing Splash dress