It all started with a meeting

Collection Autumn-Winter 2021-22 creation


This collection was first boosted by emblems, coats of arms like the one worn by old lines whose names start with Mac meaning, son of...

But before going further on, let's rewind the story till the day of my random meeting with one of my customers as this meeting set everything off.

I was in Gent, in our boutique in Koestraat, when Catherine De Zegher came in. She used to manage the Museum of Fine Arts of Gent and had just bought an ancestral mansion in Scotland, on the isle of Coll, in Outer Hebrides.

I have been knowing Scotland for a long time and stayed there so many times during my studies. Since then, I am still feeling a special love for these lands. Catherine told me about her Castle of Breachacha, meaning "beautiful land" in Gaelic.

She was just starting restoring this castle which belonged to the mac Lean of Coll and directly invited me to come and shoot the next look book there. I was immediately under the spell.


Breachacha's mood board



Shields


The Coll Collection, yes but...

... reality diverted this project. This almost unspoiled island, visited by seals and whales, remained far away and came like a fantasy to spread through the collection. I fed on the stories about Mac Lean clan that Catherine was telling me, on pictures she sent me figuring the old inside decoration revealed by the restoration.

I particularly love the graphic side of wrecked buildings where one can still see the remains of the rooms by the different layers of paints and wall-papers telling about their inhabitants' past life.





Scotland, the Hebrides, the restoration of Breachacha Castle… all gathered images from this trip which never happened, fed my dreams and came into the vocabulary of the collection. Delphine and I gave it the name of "Coll Collection".

And this strange trip reminded me of one of Nicolas Bouvier's quotation «This is the essence of long journeys to bring back something else than what you were looking for».

Opposite, mood board

The vocabulary of the collection

It is evoking Scotland and Northern Atlantic islands. As a nod to heraldry, we designed coats of arms and emblems with the colors and motifs of the collection. Being simply topstitched on the garments, they give an academic style to Blason design and turn into a polka dots print for Heroe.

Coats of arms and emblems of the collection





Scott diamond motif is inspired from Argyle design and developed in a square shape for Elly which is knitted in carded and flecked yarns to emphasize its rough and genuine style.

Tartan is another Scottish traditional motif which is developed in a softened colored version to twist this iconic and traditional woven fabric.

Traditionnal Argyle and Tartan motifs

Aran stitch

Welsh jacquard

Fiction buttoned top and coat (photography Richard
Haughton)


The stitches used for Fresque and Sham are a jacquard version of the jumpers from Aran Islands.

While Fiction is playing on the delicacy of widened and blurred Welsh jacquards.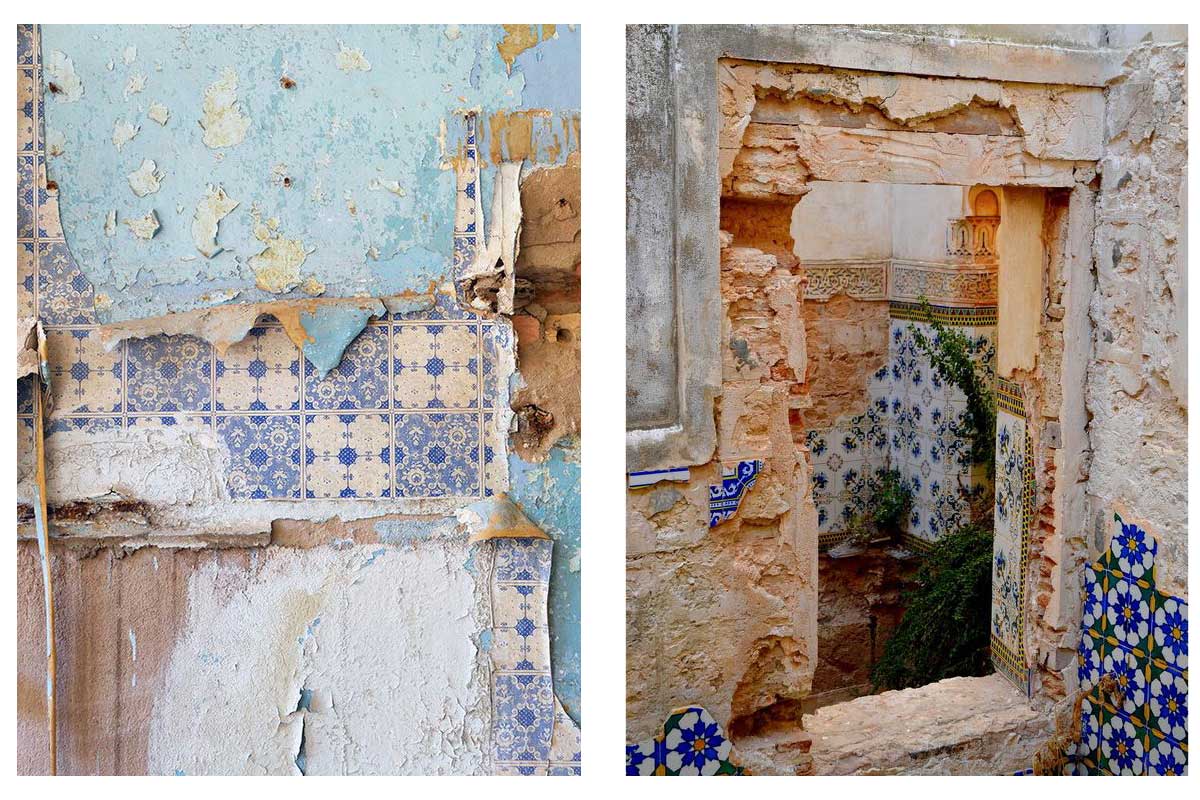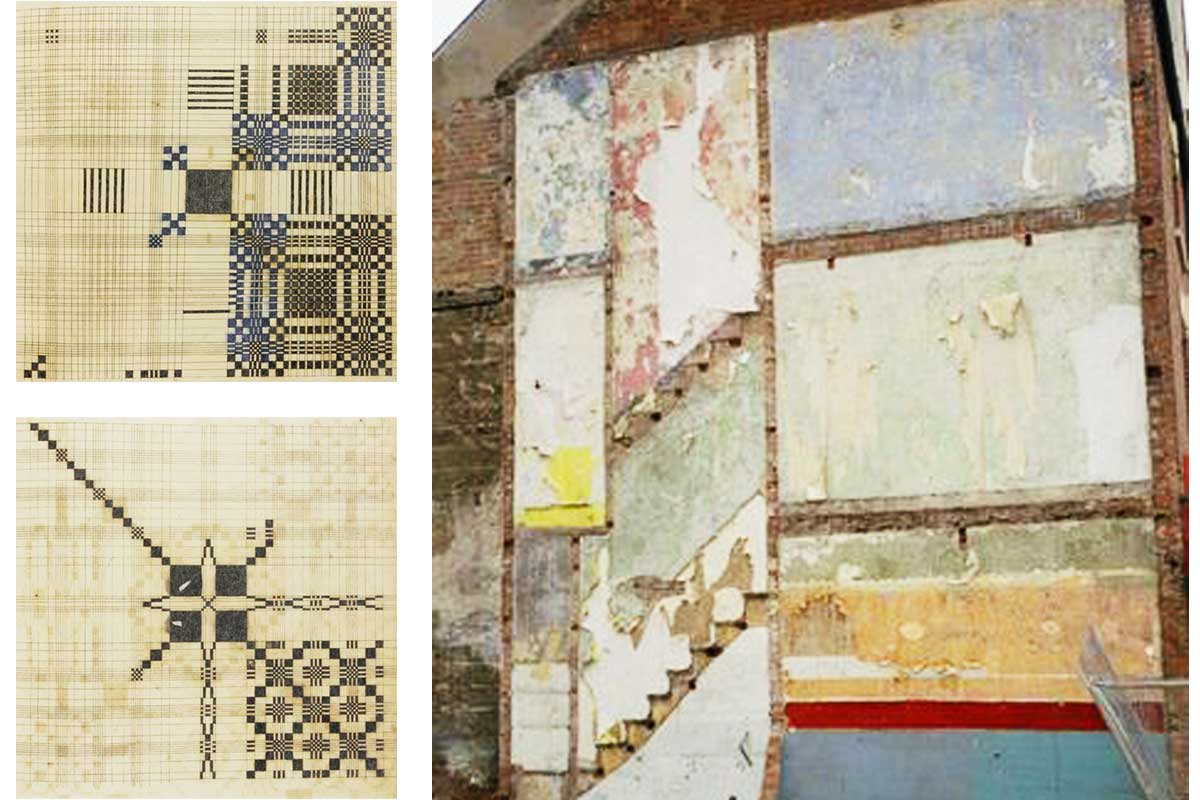 Wrecked buildings, the secret of Epic and Sigil

Like palimpsests
The images of the restored mansion on the Isle of Coll gave birth to Epic and Sigil.
Epic, as the reversible jacquard of the collection, is inspired from the numerous overlaid paints and wallpapers like a fading palimpsest. This eroded effect is given by knitting a hairy alpaca yarn with a metallized viscose. We developed an oversized shirt, a new style among the permanent ones.

Sigil jacquard is based on the same idea of palimpsest, and taking a widened piece of Epic knitted in intarsia.
We developed this graphic track in usual jacquard technique for Fiction coats.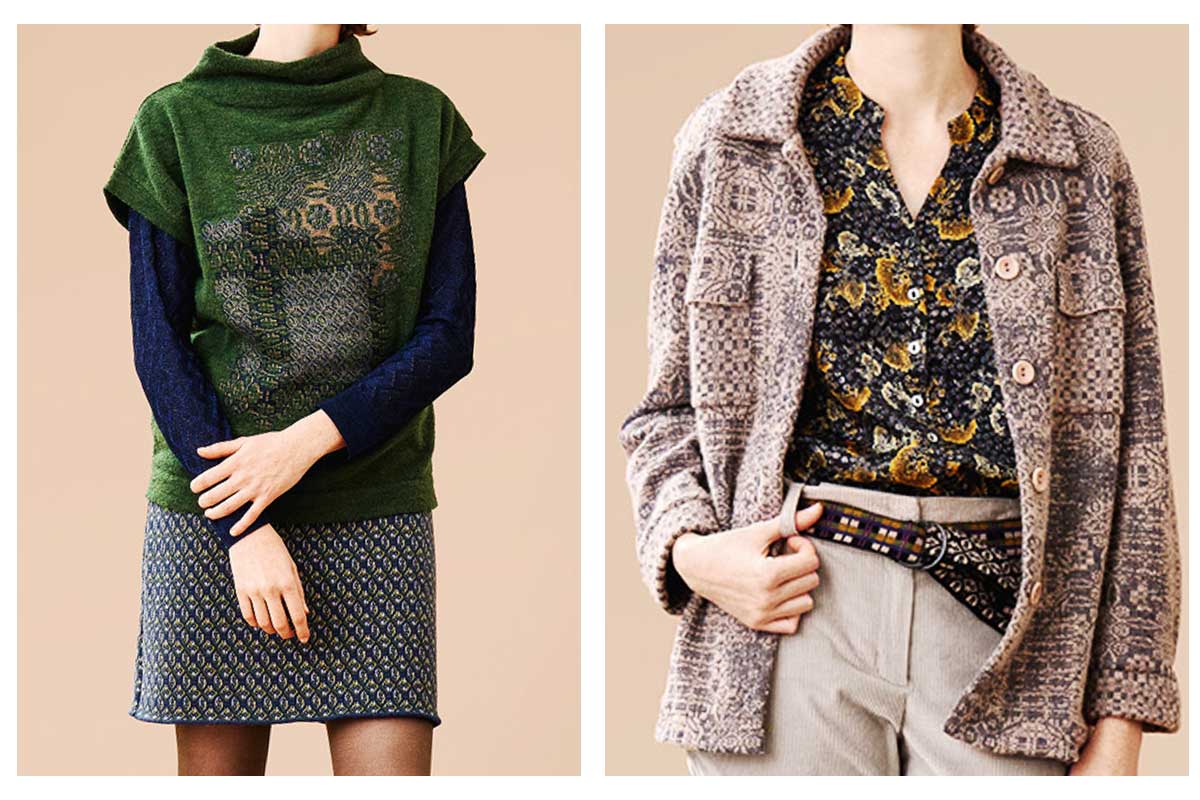 Sigil top and Epic oversized shirt (photography Richard Haughton)


Since a long time, I had this idea to work on my own version of the traditional blanket made of a patchwork of crocheted squares and done with remnants of wool balls by our grandmothers. Nanny is picking up this handmade crochet effect on an extra-large alpaca reefer jacket.


Nanny, Claire Amélie is wearing a hand crochet style reefer jacket while shooting with Richard

In the same way, we studied a honeycomb stitch in alpaca for Craft design which was developed on a sweater, a cape and a coat as if they were cut in a worn-out blanket.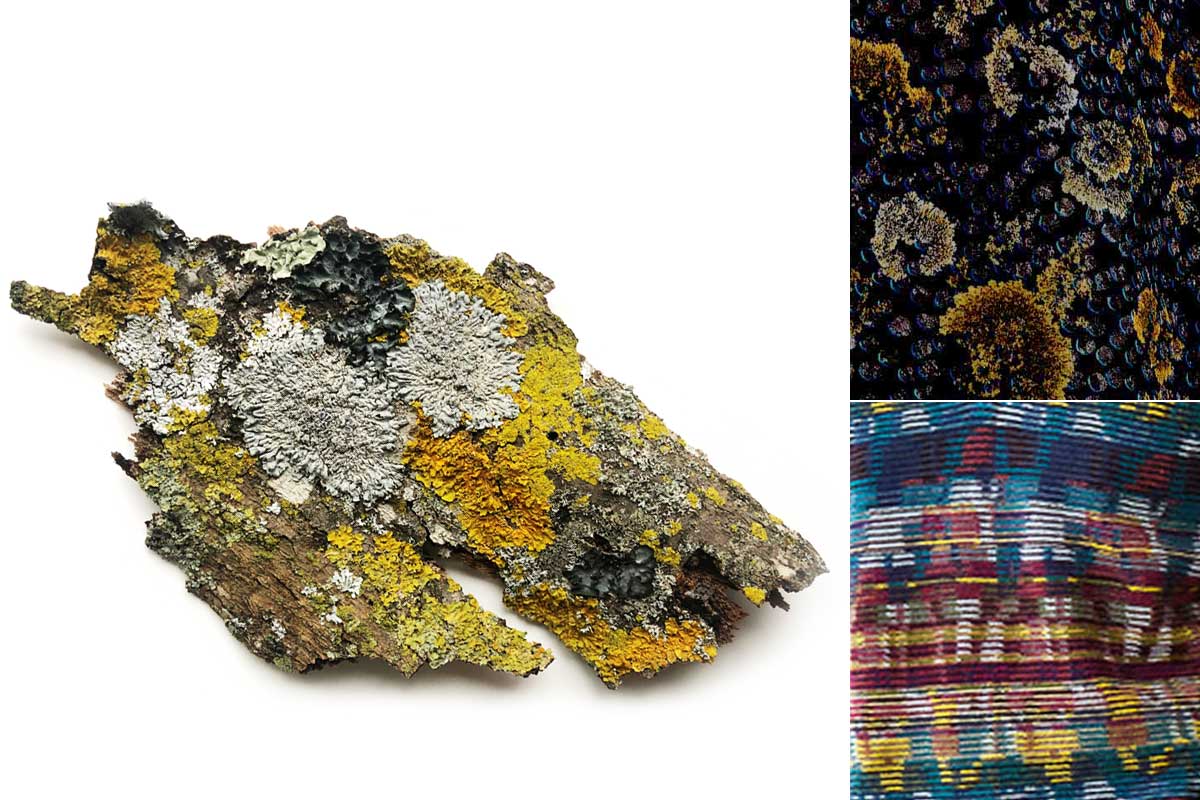 A piece of bark and its various translations, Lichen and Granit
(textile photographies Richard Haughton)
Lichen and Granit were born from a treasure my little nephew, Lelio, had brought back to me: a piece of bark covered with a lay-out of colorful lichens.

Lichen design is a digital print with golden motifs oven blue tiny polka dots. On Granit design, It becomes a looped jacquard restructured in colorful stripes.
The permanent styles

Like Dandy last winter, the optical jacquard Diamond is made with the technique which is now permanent throughout our collections for fall. It is a normal jacquard, tightly knitted with very thin yarns for a soft but compact hand. This diamond motif has a double face and felted jacquard version with floated yarns on Vetro capes and coats.


Diamond, jacquard outfit
(photography Richard Haughton)


Vetro, double face and felted jacquard with floated yarns (photography Richard Haughton)


Isild sweater and pants
(photography Richard Haughton)


In every collection, there I a jacquard design summarizing all graphic elements of the season, mixing stitches and freezes in a decorative composition. This year, this medley is called Isild.

On color side

This season is for the first time featuring beige and mauve combined with timeless navy blue and green.


Isild, Granit, Elly, Fresque, Tartan
(photographies Richard Haughton)


Claire-Amélie studying our mood board






Shooting

As my dream of shooting in the rough landscapes and old mansions of the Hebrides bumped into reality, the whole collection born of this long imaginary journey was simply shot in my village.



Diamond coat and pants, Lichen shirt
(photography Richard Haughton)


Blason jacket, Diamond skirt
(photography Richard Haughton)


Sigil cardigan, Fiction coat and Victor pants (photography Richard Haughton)


Craft coat, Isild scarf and mittens
(photography Richard Haughton)


Shooting with Heroe shirt, Fresque top and Blason skirt